Our vertically integrated facility enables us to provide extraordinary quality and product possibilities with speed-to-market solutions. We offer ingenious and premium knitted products with functional finishes and a wide range of prints.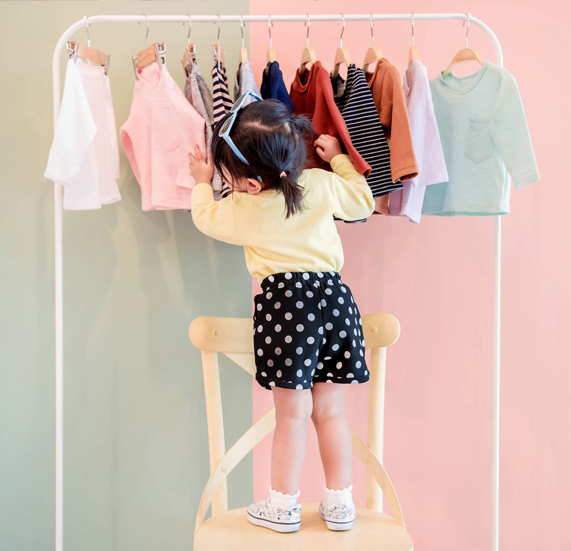 HP Cotton
Sophisticated facilities and superior-quality yarn for best outcomes
HP Cotton is a vertically integrated facility from knitting to garmenting, sourcing superior-quality yarns to produce the finest knitted fabrics and garments to meet the distinct needs of our clients worldwide. Our production facility in eastern India houses hi-tech machinery and equipment spread over a 7 lakh sq. ft. operating area with a production capacity of 18 million pieces per annum.
We manufacture garments with knitted fabrics produced in our mills and deliver them to several high-end retailers and brands worldwide. We are meticulous about the products we manufacture and ensure high-quality standards and safe working conditions, adhering to ethical practices. We ensure, the well-being of our people and environment with eco-friendly and sustainable practices.
speed-to-market solutions
Capabilities
HP Cotton's knitting embodies performance and convenience in clothing. Hunaram Processing Pvt Ltd., part of HP Cotton Group, handles our knitting requirements. The company is well-equipped to produce 25 tonnes of knitted garments per day and houses Mayer & Cie knitting machines imported from Germany. We source eco-friendly, sustainable and 100% cotton yarns and convert them to high-quality knitted fabrics to meet the demands of apparel markets worldwide. Our expertise lies in knitting jersey, interlock, pique, Lacoste, rib, French terry, jacquards, and auto stripes, in cotton and cotton blends, using low to high yarn counts.
| | | | | | | | | |
| --- | --- | --- | --- | --- | --- | --- | --- | --- |
| Make | Model | DIA | Gauge | Type | Nos of Needles | Feeders | Year | Nos Of M/C's |
| KAUO HENG | – | 80″ | 16 | Flat Knit | 4020 | NA | 2023 | 4 |
| Mayer&Cie | D4-3.2 II | 34″ | 24 | Interlock | 2544 | 108 | 2023 | 2 |
| Mayer&Cie | D4-3.2 II | 34″ | 28 | Interlock | 2976 | 108 | 2023 | 2 |
| Mayer&Cie | D4-3.2 II | 34″ | 32 | Interlock | 3408 | 108 | 2023 | 2 |
| Mayer&Cie | D4-3.2 II | 34″ | 36 | Interlock | 3844 | 108 | 2023 | 2 |
| Mayer&Cie | S4-3.2 II | 34″ | 24 | Openwidth Single Jersey | 2544 | 108 | 2023 | 1 |
| Mayer&Cie | S4-3.2 II | 34″ | 28 | Openwidth Single Jersey | 2988 | 108 | 2023 | 4 |
| Mayer&Cie | S4-3.2 II | 34″ | 32 | Openwidth Single Jersey | 3408 | 108 | 2023 | 4 |
| Mayer&Cie | D4-2.2 II | 34″ | 18 | RIB | 1920 | 72 | 2023 | 2 |
| Mayer&Cie | D4-2.2 II | 36″ | 18 | RIB | 2016 | 76 | 2023 | 4 |
| Unitex | UBX 1.5TR | 30″ | 20 | Terry | 1884 | 45 | 2023 | 1 |
| Mayer&Cie | S4-3.2 II | 34″ | 24 | Tubular Single Jersey | 2544 | 108 | 2023 | 8 |
| Mayer&Cie | S4-3.2 II | 30″ | 28 | Tubular Single Jersey | 2640 | 96 | 2023 | 3 |
| Mayer&Cie | S4-3.2 II | 34″ | 28 | Tubular Single Jersey | 2988 | 108 | 2023 | 8 |
| Mayer&Cie | S4-3.2 II | 34″ | 32 | Tubular Single Jersey | 3408 | 108 | 2023 | 3 |
| | | | | | | | | 50 |
HP Cotton's apparel manufacturing process comprises knitting, dyeing and finishing. Our dyeing requirements are handled at the Hunaram Processing facility, which houses computer-aided and latest machinery and has the capacity to produce 30 tonnes per day. Each step of the production process is subject to stringent quality checks by our quality control team. We optimise efficiency and ensure product quality by enhancing systems and processes.
Before proceeding with the dyeing process, the quality control team performs various tests on the dyed fabric samples and compares them with the customer-approved samples to ensure the accuracy of the dyed colour.
In adherence to our commitment to environmental safety, Hunaram's production unit is equipped with a fully functional Effluent Treatment Plant (ETP) to ensure zero liquid discharge. Water is a crucial resource in the textile manufacturing process and a huge volume of wastewater with harmful chemicals/contaminants is released into the environment, polluting water quality. Hunaram limits the release of hazardous waste with fully functional Effluent Treatment Plants ensuring environmental safety.
Wastewater from the textile manufacturing process contains high levels of TSS, dyes, chemicals & auxiliaries, metal toxicants and BOD. Our ETPs efficiently remove these toxic pollutants in compliance with environmental regulations, improving the quality of water as per accepted norms before being discharged into the environment, minimising environmental threats.
Tubular
Machine Details
No of Machines
Make
country
Production
wet Stretch & Balloon Padding
2
Ferraro
Italy
16000 kgs/Day
Tubular compact – Single pass
2
Ferraro
Italy
8000 Kgs/Day
Tubular compact – Double pass
2
Ferraro
Italy
9000 Kgs/Day
Relax dryer 4 pass – 2 chamber
1
Entema
Turkey
12000 Kgs/Day
Open Width
Machine Details
No of Machines
Make
country
Production
Slit Opener Cum open width padder with Bio – wash Cleaner
2
Ferraro
Italy
12000 Kgs/Day
Stenter – Heat setting cum open with dryer, Mahlo weft straightner with EdgeCutter (8 Chambers)
1
Monforts
China
12000 Kgs/Day
Stenter – Heat setting cum open with dryer, Mahlo weft straightner with EdgeCutter (10 Chambers)
1
Monforts
China
15000 Kgs/Day
Open Width felt Compaction
2
Ferraro
Italy
8000 Kgs/Day
Make
Vessel Size – Capacity – 20 Tons/ Day
Fongs – China
300, 600, 900, 1200
Pranav – India
25, 50, 200
HP Cotton's printing department works with distinct combinations of trending colours and designs. We work closely with our customers to transform their ideas into creative designs, to produce the best outcome.
Rotary Printing:
Our production facility houses sophisticated Zimmer machinery for rotary printing, with the capability to produce 6 tons of rotary printing per day. It's a continuous printing process where colour pigments are applied onto the fabric through a perforated cylindrical screen, and multiple screens are used for different colours. Rotary printing offers enhanced production efficiency and is an apt choice for long production cycles and superior surface applications.
Chest Printing:
Our printing unit houses high-performance M&R USA machines (12 nos) with the capacity to print 4 million panels per month with the capacity to produce wide-ranging prints like water base, non-PVC, plastisol, discharge, foam, foil, glitter, high-density, radium and reflective.
HP Cotton houses advanced Tajima machines for embroidery, allowing us to create new product collections, with a unique combination of prints and embroidery, according to the latest trends. We can create embroidery on all kinds of knitted fabrics, including kids, men and women's ready-to-wear, comfortable clothing comprising athleisure and active wear.
HP Cotton's garmenting division has adequate lighting, floor space and facilities as per regulations, facilitating our staff to work comfortably. Our quality assurance team performs online and endline quality inspections to validate fabric quality at each stage of the manufacturing process to ensure defect-free fabrics in the production line and only the finest quality garment reach our customers. Our apparel division is in compliance with regulations and utilizes fabrics manufactured from our knitting and processing units. Our quality appraisal systems are data-driven and consistent with lean manufacturing approaches. We are research-driven and integrate the latest technologies with our processes to deliver innovative fabrics. HP Cotton is a trusted name in the textile industry and well known for ready-to-wear, comfortable clothing comprising athleisure, active and performance wear for kids, men and women.
---
Cutting: We have facilities for auto-cutting (Morgan make – 2 nos) and auto-spreading (Morgan make – 6 nos) with a cutting capacity of 2.5 Million /Month. To meet the global pricing challenges in the RMG sector, HP Cotton believes in maintaining optimum cutting efficiency with modern, sophisticated and well-equipped CAD and cutting facilities. Our unit has different types of cutting facilities to convert (Digitize) manual patterns to CAD soft patterns, convert any CAD software, auto cutting machine, auto pattern cutter, plotters etc.
---
Sewing: HP Cotton houses over 1500 ultra-modern sewing machines comprising top brands like Brother, Juki, Yamato and Pegasus. HP Cotton's sewing department comprises highly skilled operators, technicians and professional management staff to meet clients' expectations. Besides providing full technical support we also focus on proactively providing the right solutions to meet the changing trends and customer needs. We enhance customer experience by delivering tangible and measurable value ensuring the finest quality at each stage of production with our distinct capabilities. Our technical team provides innovative solutions across our major product lines to enhance quality and productivity.
Sewing Training Center: We recruit apprentices and train them in sewing to become skilled operators. In addition to technical / skill development training, we also provide awareness training to our operators, technicians and management staff in continual improvements of our products, systems, processes and technologies to achieve the best outcome and become a pioneer in the garment sector.
---
Ironing and Finishing: Ironing and finishing are crucial processes in garmenting; our latest metal detection machinery help in detecting metals and iron needles, and ironing boards facilitate convenience in steaming for a seamless process. We have an exclusive metal-free zone for each buyer, and all garments manufactured in our production facility pass through metal detection. We ensure excellence in each of our finishing processes, which comprise pressing, folding, packing, carton stacking & shipment.
Research and Development:
HP Cotton's in-house design and R&D team seamlessly integrate customer requirements to offer compelling, appealing and stylish lifestyle fabric and garment solutions leveraging our core specialities in blended knits, dyeing and printing. We produce fabrics and garments of superior-quality with quick quality approvals and turnaround time.
Fabric:
HP Cotton's Fabric R&D is at the cutting edge of fabric innovation with a vision to offer our customers a wide range of original fabrics with custom aesthetics and functions. Our team comprises a dedicated bunch of textile engineers with experience and smart working skills in advanced technology to create new knit structures and finishes inspired by trend analysis, international trade shows and client needs.
Our ultimate goal is to focus on fibre to fashion in the garment industry.
Extensive research to gain insights into innovation in fibre, yarn, materials, and finishes.
We work with textile mills to anticipate and co-create fibre/fabric or finish technologies.
We strive to fill the gap and improve fabric development and technology.
Analyze and review fabric tests to evaluate the type of risks and recommend improvement opportunities.
Provide insights on creating profitable and environmentally sustainable garments.
Utilize our R&D team to create custom fabrics that inspire your garment designs, minimizing fabric constraints to weave innovation into your clothing brand.
Designing:
Design development and sampling form the core aspect of our operations and help distinguish our business from our competitors. Our design team consists of qualified designers and an active library of over 50000 designs for knits, with an average of at least fifty new designs being added to our portfolio each day.
HP Cotton's design development and extensive design database enable us to make a style statement in the fashion industry. We offer exclusive component innovation with excellent service delivery from concept development to production.
Product development:
HP Cotton's in-house product development team utilize CAD (Computer Aided Design) tools to deliver creative textile and apparel designs with dedicated teams to service our key clients. We conduct extensive research to gain insights into the latest trends in the apparel industry which helps us produce myriad garment collections for potential and existing clients consistently throughout the year.
Our design team has comprehensive knowledge of various fabrics and finishing technologies and works directly with customers offering innovative and cost-efficient solutions to various design challenges. Our design team works in partnership with customers to experiment and develop samples to minimize the resources needed for product development.
Embroidery and Printing:
Our production unit houses hi-tech machines for sampling in embroidery (Tajima make) and printing and an exclusive design team for executing R&D in embroidery.